Your guide to protecting your rental property in Joliet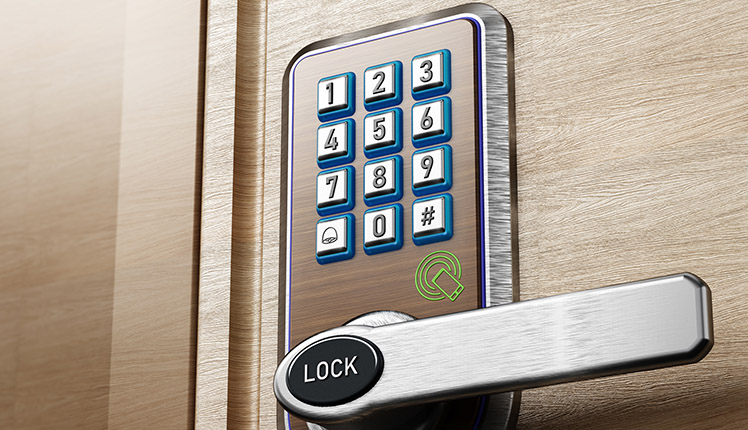 Whether you rent out a single investment property or have a diverse portfolio of Airbnbs, you may find it challenging to protect your rental properties in Joliet. Due to the continual flow of renters, it's simple to miss a key at checkout or discover you're without a valuable belonging. And what should you do when there's a flood or fire at the property while it's being leased?
From smart door locks to completely automated home security packages, here are some top recommendations on how to protect your Airbnb in Joliet.
Smart door locks stop key copies
When a visitor checks out, they may follow your instructions and provide the keys for the next guest. However, if someone snatched or secretly made copies of a key, they could sneak back in later. Needless to say, you might replace your locks if a key is lost, but that takes time and money.
Thankfully, you can use smart locks that function along with your home security system to alleviate these worries. You will then give each visitor their personal code number for entry. When they check out, there's no need to worry with a key dropoff. Instead, simply set the temporary code to expire after they vacate the property. If former occupants come back and attempt to use their old code on the door, you will be warned with an update on your smartphone.
Home automation makes empty properties appear to be inhabited
Of course, you hope that your Joliet rental property will be occupied, but that's not always true. Nevertheless, you need to make it seem that someone is home so your place isn't an easy mark for burglars. Incorporating a security system that includes home automation allows you to use smart light bulbs, motion detection equipment, and video cameras that make your home appear lived-in.
You can put your plan in motion by setting some lights to come on at specified times of the evening. You will also set your security app to notify you if your exterior cameras notice an unwanted guest hiding in the dark or walking toward the front door. You have the opportunity to employ the 2-way talk feature so they know you're watching or set your lights to instantly turn on when a surveillance device or motion sensor discerns questionable movement.
Protect your Joliet rental property with 24/7 monitoring
Your renters will be more relaxed if they are safeguarded against burglars, particularly when Joliet is unfamiliar territory. If a robber attempts to invade your property, your security system will not only initiate the alarm siren but will also notify your around-the-clock monitoring professionals. Regardless of your location, help will be on its way. Your monitoring specialists will even act as your point person and communicate with you as soon as you're able.
Along with home invasions, your monitoring team can be linked to fire alarms, water sensors, and carbon monoxide detectors. It would be understandably upsetting for your renter if a water heater springs a leak or a fire erupts. You will then be sent a cell phone update that an urgent situation has occurred, but the monitoring agent can also arrange for help from emergency personnel while you're on the way.
Order a modern home security package in Joliet
Protect your rental property in Joliet when you get a home security system. Luckily, Vivint offers options like smart lights, smart door locks, and around-the-clock monitoring. Contact us today and our experienced team will personalize a package that makes sense for your rental. Call (815) 427-4864 or submit the form today!
Cities Served Around Joliet By Smart Security Specialists Your Local Vivint Authorized Dealer